Aspen Brooks & Kellie Shaw
Year of production: 2020
Genre: Shemale, Hardcore, Bareback
Duration: 00:25:04
HD video type: 1080p
Video Quality: SiteRip
Video Format: MP4
Video: MPEG4 Video (H264) 1920x1080 30fps 8000kbps
Audio: AAC 44100Hz stereo 320kbps
Aspen Brooks & Kirk Cummings
Year of production: 2020
Genre: Shemale On Male, Hardcore, Bareback, Ass Licking, Cumshot
Duration: 00:25:02
HD video type: 1080p
Video Quality: SiteRip
Video Format: MP4
Video: MPEG4 Video (H264) 1920x1080 23.976fps 5510kbps
Audio: AAC 48000Hz stereo 167kbps
Brenda Bae - Teen Crossdresser Gets Fucked By Her Therapist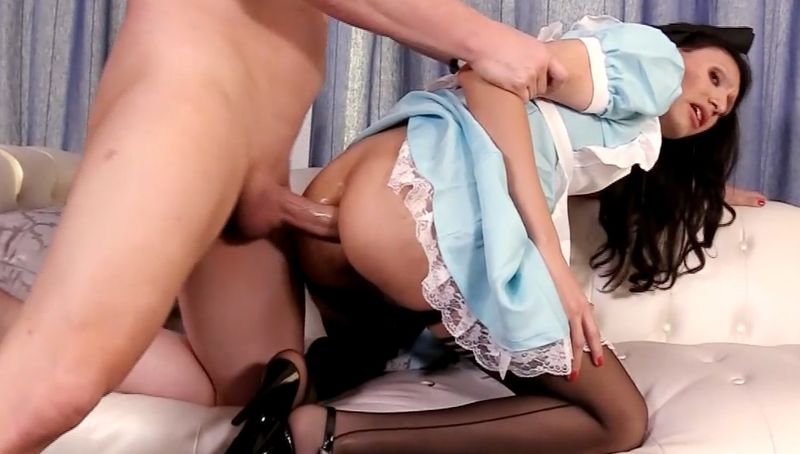 Year of production: 2020
Subsite and site: BecomingFemme.com
Genre: Shemale Hardcore, Blowjob, Anal, Bareback
Duration: 00:26:43
Description: Brenda Bae is having her weekly visit with her therapist when she talks about her overwhelming desire to be female and get treated like a female.
HD video type: 1080p
Video Quality: SiteRip
Video Format: MP4
Video: MPEG4 Video (H264) 1920x1080 30fps 8300kbps
Audio: AAC 44.1KHz stereo 296kbps
Natalie Mars & Ella Hollywood / Natalie's Milking Clinic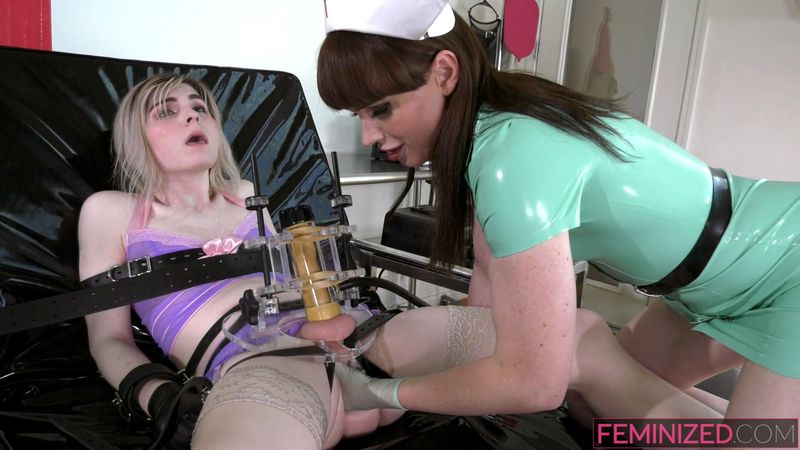 Production Year: 2019
Genre: Transsexuals, Shemale, Chastity, Transsexual Dominatrix, Medical Clinic, Fucking Machines, Anal, Enema
Duration: 00:34:54
Natalie Mars takes on those special little boys that were meant to be girls. Her subject Ella Hollywood has one last procedure before she can officially finish her transformation and be the slutty girl she must be. Once every last drop of testosterone has been milked from her balls her life has a boy will be over. Nurse Natalie clamps on a milking machine that will pump and stroke away on her cock making sure that last and final orgasm is sucked from her body. Nurse Natalie drains her subject dry then begins to stretch and fill her slut-hole to show her what her life as a girl will be like. She will never have a hole empty without cock and must train her ass to take giant objects for her girlhood. Toys aren't enough for this slutty girls ass and Natalie has one last trick up her sleeve to really make sure she is completely filled up like never before. A big soapy enema is exactly what the doctor has ordered as Natalie forces an entire bag down Ella's hole making sure she holds every last ounce of it in.
HD video type: 1080p
Video Quality: HDRip
Video Format: MP4
Video: MPEG4 Video (H264) 1920x1080 29.97fps 10039kbps
Audio: AAC 48000Hz stereo 120kbps
Bad Little Bitch: Lianna Lawson Punished, Suspended and Fucked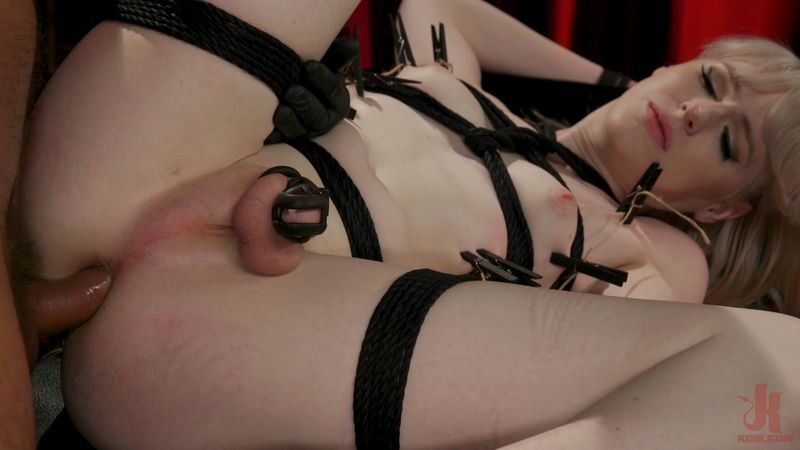 Date: 1/7/2020
Genre: Shemale, Hardcore, Anal, Blowjob, Male Fucks TS, BDSM, Bondage, Bareback, Handjob, Masturbation, Cumshots, Anal Play, Suspension, Chastity, Anal Fingering, Clothespins, Cumshots, Cum in Mouth, Blowjob, Facial, Flogging, Latex
Duration: 00:37:51
Studio: Kink.com
Cast: Dominic Pacifico, Lianna Lawson
Director: Fivestar
Description: Clad in tight shiny latex blonde beauty Lianna Lawson is locked up in a cage. She looks around to make sure her Master Dominic Pacifico is not in the room before she slides a hand down to tease herself. She frees her cock from her latex panties and starts to jerk off. Caught up in self pleasure, she is startled by her Master's sudden appearance and gets caught touching herself. Dominic is none too pleased his horny little bitch cannot follow instructions. He drags her out of the cage and bends her over it for a firm spanking. Lianna squirms as the spanking soon turns her ass bright red. Dominic manhandles Lianna into position on her knees and locks her in place with a chain. He slaps her face and reminds her who is in charge. He bites her tits until Lianna is gasping from the pain and flogs her sensitive tits and her hard cock. Soon Lianna is begging to cum but Dominic has other plans for his disobedient fuck toy. He strings her up in her first full suspension and fucks her face. Helpless in bondage, Lianna takes every inch of her Master's fat cock. Drool pours from her mouth as Dominic fucks her throat and makes her suck on his balls. Lianna's cock is rock hard throughout this rough treatment and soon she begs her Master to fuck her ass. Dominic brings her down, ties her up, and runs two zippers along her sides. He locks her cock in chastity to ensure she will not be touching it anytime soon. He crops her tits as he stretches her ass open with his fingers. Lianna moans as her Master slides his hard cock into her hole. She loves getting fucked and used. She begs to have the zipper off and is rewarded as Dominic rips them off, sending pain and pleasure rushing to her caged cock. Dominic lavishes her feet with attention before blowing his load all over her face and throwing her back into the cage.
Video Quality: SiteRip
HD video type: 720p
Video Format: MP4
Video Codec: H.264 / MPEG-4 AVC
Audio Codec: MPEG-4 AAC LC
Video: 1280 x 720, 29.97fps, 4998Kbps
Audio: 44100Hz, 128 kb / s, Joint Stereo
Jane Marie In A Gangbang!
Year of production: 2020
Genre: Shemale, Blowjob, Latina, Anal, Gangbang, Hardcore, Bareback
Duration: 23:16
Description: Happy New Year! To celebrate, we have a special present for you today - an amazing gangbang scene featuring the one and only Jane Marie! Wanna see Jane Marie taking multiple hard cocks and loving every second of it? Horny as hell, Jane can't wait to feel them all! Watch her enjoying some amazing gangbang fucking in our first update of 2020! What a way to start a year!
HD video type: 1080p
Video: H.264 / AVC, 1920x1080, 30 fps, 8000 kb / s
Audio: AAC, 44.1 kHz., 320 kb / s
Ambrys Kay - Mercy Heals Your Cock!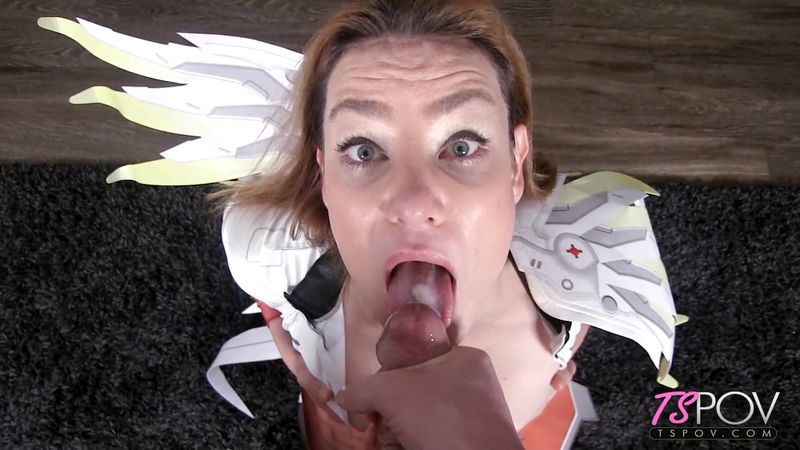 Year of production: 2020
Subsite and site: TsPov.com
Genre: POV, Shemale Hardcore, Blowjob, Anal, Bareback
Duration: 00:20:47
Description: Mercy is the greatest healer in the world and now Dr. Ziegler is here to heal and worship your cock.
HD video type: 1080p
Video Quality: SiteRip
Video Format: MP4
Video: MPEG4 Video (H264) 1920x1080 30fps 8300kbps
Audio: AAC 44.1KHz stereo 244kbps
Casey Kisses and Febby Twigs - Pillow Fuck
Year of production: 2020
Country: USA
Genre: Transsexual gonzo hardcore
Duration: 00:32:54
Description: Tenacious Casey Kisses teases petite blonde Febby Twig in this sultry pillow fight scene. Febby can't take her eyes off Casey's talented tongue licking a lollipop. The two horny girls tickle each other in all the right spots before the real party begins. Casey swings her neon pillow at Febby's face before doing the same with her nimble dick. Febby's desiring throat takes it all. Casey might be lustful, but she's not a greedy bitch. She pays Febby back by licking and pounding her ever hungry pussy. Casey bangs, moans and groans. The twisted tricksters have a 69 before Casey's dick explodes at Febby's wide open mouth. What a treat!
HD video type: 1080p
Video Format: MP4
Video: H.264 / AVC 1920x1080 16/9 23.976 fps 5900 kbps
Audio: AAC Dolby Digital, 48.1Hz, 2ch, 128 kbps